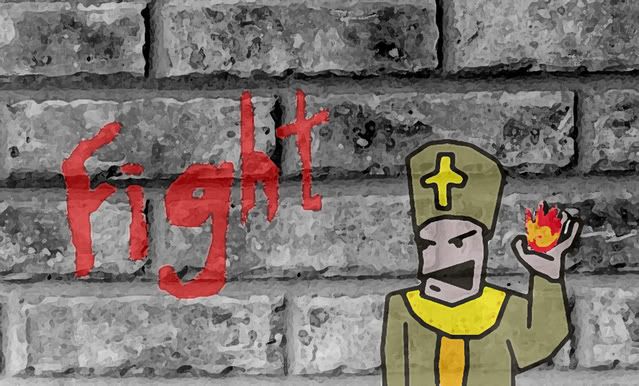 So kids back again for another dose of crap, well good for you. I'm quite sure by now you know its bad for you, but it's always the bad stuff that taste the best isn't it. Well what has happened in the recent weeks, well I joined up to the Wits End community, I'll be posting some short stories there every now and then, you can find the link in the blog roll. Britney's younger sister is following her down the path to pure white trash, and has become pregnant to one of her church friends at the age of 16… its so very Christian isn't it, somehow I think the piety and the reserved nature of Christianity didn't rub off on her. Oh well, I'm sure they will get married and live a long and happy life together, no seriously I'm sure they will, someone from that family has to be normal. And of course it's nearly Christmas, it's the Sunday before the big day and ol' Jeebus is rubbing his hands together at the thought of celebrating his 2007 birthday. Whilst kids every where pray that the parental units they are attached to get them the correct Barbie or Action Joe slut toy. Oh well hey kids it's on to more important matters.

A while ago I posted how I could win a fight against Ghandi, basically because I am so immensely strong cool and sexy. Why would I want to fight him wasn't important but the basic gist was I kicked him in the sack, when he was distracted by me telling him everyone's favourite MASH character was behind him. Dirty I know but hell that's me, pure dirt, but don't you love me for it. In that little pointless post we all lost some brain cells, it was inevitable kids wasn't it, so don't worry about it. But Lin of the Creek Journal stupidly encouraged me by giving me a suggestion of who I could fight next, so blame her for this update of puerility. Introducing the next bout in the long line of people I could take, Margaret Thatcher, ex Prime Minister of England and the only person in the world who bothers pronouncing 'h' properly. First of all yes I know she is a woman, but only just, I know you're all looking down your noses at me for saying I'm going to take on a woman, but I dare say most of you would be unaware of the fact that old Maggie was a bare knuckle boxing champ. Growing up in the mean streets of Oxford beating off poor people who were after her small change, lead to her true first passion, mixed martial arts.




So this fight wont be as easy as kicking a small Asian man in a nappy in the spuds. First lets go down the path of how this fight would start, hold on kids it's about to get really, really stupid, Jessica Simpson type stupid. There goes me, a much younger, stylish me wandering down the streets of England singing a Clash song. Which one it doesn't matter, actually I'm probably just yelling "Fatchers England" at the top of my voice whilst pretending my semi literate public school education taught me anything about politics. You know like Joe Strummer. I'm pretending that being a musician makes my opinion important, and that instead of going into politics where my great ideas can make a difference I'm going to get rich cashing in on the stupidity of the lower class youth. Who think I'm some sort of lyrical political genius, you know like Joe Strummer. So I'm some wannabe punk hippy douche bag wandering down the street playing my three cords whilst singing in an accent you normally associate with receiving your order of fish and chips, you know like Joe Stru…, ok so you get the point, I hate Joe Strummer and The Clash. If he had such great knowledge of politics why the hell didn't he do something about it by becoming a politician? Not that I'm standing up for Maggie, not at all, but lets leave my views of all politicians and people in positions of power for another time, I have a fight to deal with.

So there is me, "Fatchers England", and so on. When suddenly from the opposite direction comes the Iron Wench herself, she looks me up and down, displeasingly groaning at my clothes made out of safety pins and garbage bags. I notice this and being the reserved individual you know I am look for some action.


Me: "Yo, Thatcher… you suck and… stuff"
Maggie: "Get a job you urchin"
Me: "Hey, I'm not gay"
Maggie: "That's not what Urchin means you fool"
Me: "I know I was making a statement about the current education system"
Maggie: "No you weren't, you're just a Cretin"
Me: "OK now I know you're calling me gay, so put em up biatch"
Maggie: "I don't want to fight you I promised my mother I wouldn't fight any more"
Me: "Oh of course, but now you're off to work in an ice factory"
Maggie: "Yes, but how did you know that?"
Me: "That's the story to 'The Big Boss'"
Maggie: "That's… just a coincidence"
Me: "You are such a liar"
And on it would go in a ridiculous circle of stupidity, until of course we would either ending up punching on or sleeping together, but hopefully the former of the two. But now to the meat of the sandwich, how could I take on such a dangerous specimen of femininity and come out on top, the kick to the bikkies isn't an option. The boob punch is a special tactic I choose to reserve for really special occasions, (I haven't had to use it yet). So how, well there is one tactic that does seem to carry some weight to it. It is an ancient technique passed down through the Pope family lines, a secret tactic only a few know about, how can I put this so it wont sound crude… smash the bitch in the knee cap with a lump mallet. I know it's not the secret kung fu style kick flippy thing you imagined is it. But what can I say we Catholics aren't a terrible subtle bunch, look at our two most famous organisations, ones the Vatican and the others the Mafia. What did you expect?
So again I just resorted to cheating, to beat up a woman who even in her hey-day was a good few decades older than me. But hey your not here to see nice I am are you, you're here to marvel at my amazing manliness and shiny muscles… oh look at this one.
Pope Terry aiming just beyond mediocrity
Margaret Thatcher seems to get a great deal of pleasure from
humor-blogs.com