Ok kids, welcome back this time it's something really special. We take a break from the usual crap I harp on about, and deal with something really important. Something of such valued importance that everyone should read this, and then once you have, write to your local mayor, Member of Parliament, or even just scream at your neighbour. It's of such vast importance that I can't even begin to describe it.

In recent years I've noticed a gathering trend on TV. At first it wasn't something to worry about it only happened occasionally, it wasn't that disconcerting. But in recent years it has increased far beyond all reason. This problem has gotten so far out of hand it's the largest problem facing the world today. Screw the hungry kiddies in Africa, the hole I the ozone layer can piss off back up Al Gores arsehole. This, my friends is the real problem.

So here it is, here is my plea, and I hope the rest of the world will join me when I say this. PLEASE, PLEASE, PLEASE Hollywood stop putting your great actors in shitty TV shows. And now you know what I'm talking about don't you. And you know the massive spanner shaped problem that it is. If you doubt that it's a problem let me explain further.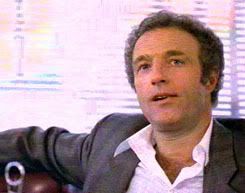 This is James Caan. James Caan is a living legend, one of the all time greatest actors America has ever produced. He was in 'Rollerball'(the original 'Rollerball' not the shitty god awful remake starring LL Cool J). One of the greatest films about corporate power, big business, and conformity gone mad ever made. If you don't agree with me, then you're a twat. Pure and simple. He was also in 'A Bridge to Far', and something to do with the mafia I can't remember what it was called. Where was the last likely place you saw James on screen… 'Las Vegas'.

The whore of a show about a casino run by plastic surgery victims and drop outs from '90210'. Sorry to do this kids, but he is James Fucking Caan, he was in the Godfather, and this is what you do to him. And while were speaking of 'Las Vegas', I had the displeasure of sitting at a friends home a few years ago, being tortured through an episode of this crap. Only to be surprised by the site of Dennis Hopper in a cameo.




Dennis Hopper, in a cameo role in 'Las Vegas'. Doesn't 'Apocalypse Now' ring any bells with any one? Possibly the greatest war movie ever, and he's playing support cast to a women who plays support cast to her massive titties. It's not right.




Donald Sutherland, as close to my favourite actor of all time as I would like to say, (it's a toss up between him and a few others). An actor whom has never really taken himself to seriously I would think. I once saw him in a movie where he dead set talked about the benefits of wiping your bot bot with wet toilet paper.

But this doesn't mean he deserves to be treated like this, 'Commander in Chief', 'Dirty Sexy Money'. Come on people, 'Kelly's Heroes' is just gloriously funny. 'S*P*Y*S', with the delightful Eliot Gould, and not forgetting he's been in just about every version of the 'Body Snatchers' put to film, on TV or the movie screen. Plus he was on the 'Avengers' TV series, which forever cements him in my good books. He doesn't deserve to play the bad guy in a show about the first female president, who only got there by default.




But moving on, Angelica Houston, in 'Medium'. God wouldn't that be embarrassing, playing second fiddle to an Arquette, that shouldn't be put upon anyone, I don't care who you are or what you've done. But there she is, proving that no one in Hollywood has a memory for anything that happened in the eighties and nineties.




And finally to the last and most sickening piece of filth I've been forced to endure of the last few years. Late at nights I watch the TV; every now and then I sadly get caught watching infomercials. One in particular catches my eye, not because the product is so great, but because of the level of sadness it brings me. Take a deep breathe kids you'll need it… Peter Fonda is flogging CDs.

Come on kids, breath, stop crying. It's both tragic and anger inducing at the same time isn't it. But its just not that kids, that makes it so bad, it's the fact that the company is cashing in on the character he played in 'Easy Rider'. Yep the original counter culture movie being used to cram a metric tonne or so of useless crap down your throat. It's some sort of 'sounds of the seventies' or something to that effect kids. You know the ones, "You'll never be able to find all these songs in the shops".

True but there is probably a reason for that, and it usually has something to do with the crappiness of most of the songs on those compilations. And if you're thinking about getting one of those compilations kids, just download. I don't want to advocate piracy, but well, actually I do. It's probably far easier and cheaper.

So we have all these great actors languishing on such shite TV, and Will Ferrel can get away with playing the exact same character in every single movie. What is the deal Will, you can act we know you can. 'Stranger than Fiction' was a great movie, and then you go back to playing Ricky Burgundy or whatever character it is, with the exact same traits as all the others you play. I'm not saying I don't enjoy them to some extent, but I can only take so many movies about a cocky arsehole learning some respect and perspective. Please Hollywood STOP IT!

humor-blogs.com believes Will Ferrel can do better... so click the link!