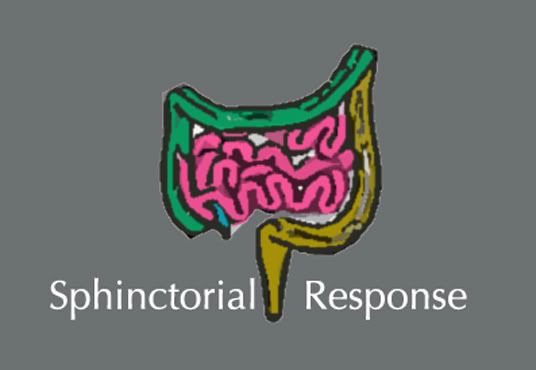 Oh hello kids welcome back, this time, we delve into the dark gooey centre of something new, like some mysterious chocolate bar you found lying on the street, picked up and hurriedly devoured. Well kids I don't think you should be eating things you find on the street; it's never a good idea. But enough prattle, what in the name of Jesus' pet flying squirrel Vlad, is a Sphinctorial Response.

Well kids there is this saying, that opinions are like assholes/arseholes (depending where you're from), in that everyone's got one. I like to add to that that everyone else' always stinks as well as a funny little by line, aren't I clever? Well? So for those of you with a working set of brain cells, you can probably guess that a Sphinctorial Response is just my disgusting way of saying this is my opinion. Opinion on what exactly, well to be honest its probably going to be TV shows mostly, but occasionally when something catches my eye, you'll get my arsehole on something else… oh sorry my opinion.

Flight of the Conchords, the new HBO comedy show featuring New Zealand's fourth most popular folk parody duo. And apparently one of the things currently melting YouTube's servers through mass traffic and 'rofl'ing. This show only recently came to Australia after quite some wait. I was quite looking forward to seeing it, I'd seen the duo on a comedy show on Australian TV and quite enjoyed their droll delivery and better than average musical comedy. But, and for some reason I feel guilty about saying this, I don't think the current HBO show stands up to the hype for me.




I wanted to like it, I really did. There are very few good sitcoms around today so to get one with some actual good comedians in it, was like having Anne Hathaway turn up on your front door wearing naught but a edible g-string holding a rather large machine gun. But when it got here, I had a few chuckles and then just waited for the half an hour to be over. The two stars are never really the best bits of the show either; it's constantly lifted from under them by their manager Murray, Arj Barker, and Christine Schall, who is quite possibly a horse.

I feel guilty about not laughing at FOTC, because apparently it's meant to be the funniest thing since watching Robert Mugabe chow down on a shit sandwich. But for me the line they walk between low key humor and no key humor is just very blurry. I'm not the biggest fan of musical comedy. Lets face it its stupid rhymes set to music (and eventually someone is going to say 'fuck' because for some reason singing that word is hilarious), which is only funny the first two times you hear it, if that. Now for some reason FOTC is compared with the Mighty Boosch.

Which would be the wrong thing to do; yes they both have musical interludes in them. But FOTC isn't a brilliant spoof of just about every children's show from the seventies and eighties. The set design and the characterisation of the Boosch characters brings about that feeling that you're watching HR Puff 'n' Stuff on acid, peyote, and about 12 other hallucinogens at the same time. The Mighty Boosch still remains the bench mark of surrealist low key humor in my opinion.

FOTC is worth a few chuckles, and a smirk here and there but I just can't bring myself to agree that it's as good as everyone thinks it is. And I'm really sick of people saying if you're not laughing, you just don't get it. No, I get it, I'm just not laughing, it works both ways. I'll agree its better than most of the guff on TV, but that's really not saying much now is it.

I find myself being angry at the show because it hides a much better show (that's on directly after it on a different channel) in its shadow. I know its not FOTC fault, but my TV guide, 'The Green Guide', has reviewed it (FOTC) about four times, in the past six weeks. Yet I've never heard even a peep about the far superior show that comes on just after it. That show is 'It's always Sunny in Philadelphia'.


Where else can you get Danny Devito saying his going to 'trip' his balls off.
The show is something to behold, complete nonsensical situations with complete arseholes of characters, but it manages to avoid that 'oh shit I can't watch' painfulness of 'Curb your Enthusiasm'. The best way to describe it I guess would be a mix between 'Curb' and 'Arrested Development' which is the best sitcom EVER (well… I might be getting ahead of myself there). Using my powers of detection and IMDB, the show ran for three seasons (32 episodes). Which is more than I thought it would get, but seems to have run its course now (whether it was cancelled or what I don't know). Either way I hope you saw it somewhere along the line. To any Australians reading this, when FOTC finishes on Sunday night, its not bedtime yet, stick around and watch IASIP, please just once, for me.
humor-blogs.com
will turn up on your doorstep wearing whatever you want...
Member of humorblogs.com, want to shove your head in a bucket of liquid nitrogen, well before you do that pop over
here
and vote for some of my other posts.