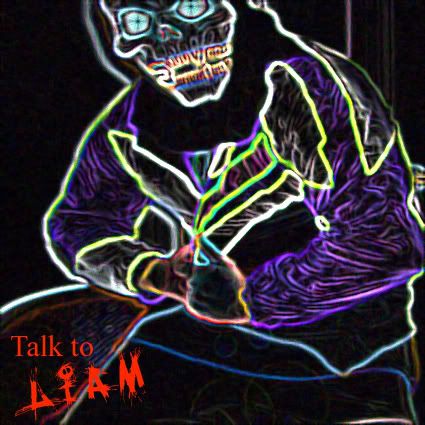 Tony: "[walks to phone, yawns] Hello"
Liam: "Hello Tony"
Tony: "Oh, what do you want Liam? It's three in the morning"
Liam: "Actually its closer to four"
Tony: "Great… that still doesn't explain the phone call"
Liam: "I need some help"
Tony: "It's not the spider again is it?"
Liam: "No, were friends now, he… he seems to be… oh never mind about that, I really could use some assistance"
Tony: "Right now, you need help right now?"
Liam: "Yes… it's quite cold outside and I'm feeling a little faint"
Tony: "You're outside, why are you outside [walks into kitchen]"
Liam: "It's hard to explain… oh, turn around Tony"
Tony: "[turns around looks out window] Oh for fucks sake, what are you doing hanging in my tree"
Liam: "Look its really getting cold, and I really need to go to the bathroom"

Tony: "Fine, what a minute [disappears to get shoes and dressing gown], alright I'm coming out"
Liam: "Ok… I'll see you then [hangs up]"
Tony: "Yeah, looking forward to it"

Tony: "[opens back door and walks out into the cold snowy night] Ok… what are you doing hanging upside down in my tree"
Liam: "[swings very slightly back and forward] Now I'll tell you, but do you really want to know?"
Tony: "[thinks for a second] No not really, how long have you been up there?"
Liam: "Ooooh… it was four o'clock, so that's… since Tuesday"
Tony: "Five days… you've been hanging in my tree for five days?"
Liam: "Yeah that's about right"
Tony: "Wait I was out here on Thursday and you weren't here"
Liam: "Oh I was up in the tree, but well…"
Tony: "Well what?"
Liam: "I was eating a snickers bar before, and a squirrel scared me"
Tony: "[under breathe] oh fuck me"
Liam: "Then I kind of slipped in my harness and fell."
Tony: "Ok, no… I have to know why are you in my tree? [rubs eyes]"
Liam: "Well on Tuesday I just had an urge to climb, and this is the best tree in the neighbourhood"
Tony: "[sarcastic tone] Well of course we all just feel the need to climb sometimes"
Liam: "And then after that…"
Tony: "Yes? After that?"
Liam: "Promise you won't get mad"
Tony: "No"
Liam: "Well alright then, after that [leans in close to Tony's face]… I thought I found Narnia"
Tony: "I have to move…"
Liam: "It wasn't though…"
Tony: "Oh really… Narnia isn't in my tree… good to know"

Liam: "Any chance you can cut me down soon, you know nature calls"
Tony: "Yeah… wait if you've been up there the whole five days how have you been, you didn't… not on my lawn"
Liam: "What, oh no, I had a bucket for that, and I always use a catheter for number one"
Tony: "[speaking sobbingly] Will you remove your bucket of poo from my tree soon?"
Liam: "Well I'm busy for the next few weeks but I'll definitely put it in my diary."
Tony: "Thank you [cutting rope]"
Liam: "[rope snaps] Ohhhh!, [lands on head] thanks buddy… well I wish I could stick around but… [runs into the snowy night]"
Tony: "Definitely moving…"

humor-blogs.com uses a bucket, but only because it lives in a cave...